Please don't worry. Firstly, check your junk and spam folders in your inbox as sometimes our e-mails can end up in the wrong folder.
If you purchased tickets using Apple Pay, Paypal or similar methods then please check the email associated with that payment method as this may be different to your primary account.
Please do not travel to the resort without a prebook confirmation especially in Peak Season, as you could be refused entry due to us still controlling our capacities.
If you have not received or have misplaced your Order Confirmation you can our Order Lookup function on our website to locate your booking details and tickets.
You can access Order Lookup by clicking here.

To begin, please enter the email address and phone number you used when you made your booking with us. This will then send a verification code to your email address to verify your identity.
When you have received your email verification code, please return to the Order Lookup page and enter this in box, then click 'Submit' to proceed.

This will then present you with a list of all your reservations and orders made with these details. Please select the booking you wish to retrieve from the list.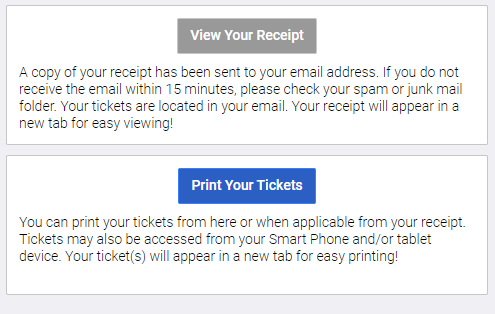 Click the 'View your Receipt' button to send your email confirmation and tickets to your email address again. This may appear in your spam or junk folder and will come from noreply@accessoticketing.com
Click the 'Print Your Tickets' button to view your tickets on screen, where these can either be printed or added to your mobile ticket wallet.
If you have been unsuccessful in finding your booking confirmation, please contact us via Live Chat on our website or if you'd like to contact us by email, complete our Guest Contact Form here.